Women's Struggles Interview with Rasha Jarhum, Peace Track Initiative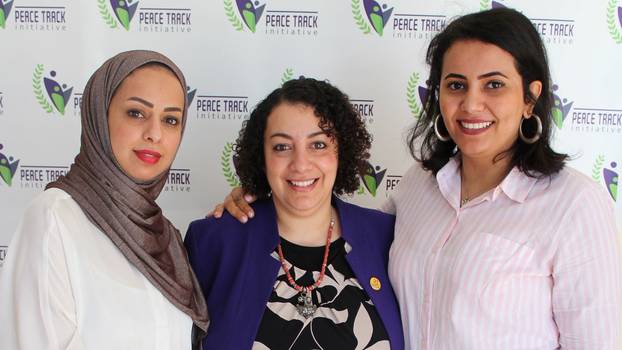 By Anne-Linda Amira Augustin
(Original interview in German)
Anne-Linda Amira Augustin: International Women's Day is approaching, how is this day conceived in Yemen? Is it a day that gives reasons to celebrate? What are the current women struggles in Yemen?
Rasha Jarhum: The feminist movement in Yemen has always celebrated women's international day. Before the war, this used to be an occasion were we would expect small advocacy wins on women's rights whether promises on representation quotas or approving amendments to discriminative legal provisions. Today the feminist movement continue to celebrate the occasion, but in even more harsh conditions due to the war. The women in Yemen today face multidimensional insecurities. There is increased violence against women. Even tribal codes that used to protect women are not respected anymore. Regardless of all these challenges, the Women in Yemen are resilient and strong. In some areas they walk long distances in difficult terrains maneuvering land mines in order to secure food or water for their families. The women are protecting the men in their families. They will choose to go out and pass through armed groups check points enduring harassment to protect men from being kidnapped by armed groups. It is important to remember that the women in Yemen are not passive victims but rather resilient and strong women.
Yemen ranges among the countries, in which gender inequality is enormous. How is the situation in Yemen?
Yemen always ranked last in the gender equality index. This is because discrimination against women is embedded in social norms, institutions, and the légalisations, that are influenced by patriarchal values. The war may have added to this by adding multidimensional securities that women are facing, however, the war also showed the strength of women in Yemen. We formed the Women Solidarity Network that has more than 250 women inside and outside Yemen. Our members display a true example of courage. Women are leading mediation on local conflicts over resources such as water and land. The women members are working to address child recruitment. Women are mediating you free arbitrary detained men and women. Women are leading humanitarian negotiations to open roads and provide access for aid and remove armed groups from schools.
Did the war change the situation for women? What has changed since 2015?
The war changed a lot of dynamics and added to the multidimensional insecurities women are facing. Millions of mothers are malnourished. Millions of women are displaced. Many women are assuming the role of the breadwinner after losing their male breadwinners to the war. Women are more prone to outbreaks such as cholera due to their care giving roles. The collapse of health system has led to maternity deaths. Girls marriages have increased dramatically as families resort to marry off their daughters for dowry money. But as I mentioned it is important not to look at these women as passive victims and look into their strength to address all these challenges. Because we have noticed that this victimization of women is leading to their exclusion in the peace process. Before the war the women were able to secure almost 30% seats in the national dialogue but since the war started women representation in peace negotiations and consultations have been very limited. This is something we are working hard to change.
Could you tell me more about your work with the Peace Track Initiative? What are your goals and what could you already achieve?
The Peace Track Initiative started informally in 2015 and was based on volunteering effort of myself and women colleagues. When the war escalated we came together as women to help. We decided to institutionalize our work and incubated the Peace Track Initiative im Geneva Center for Security Policy. Then I moved to Canada and registered it in Canada as non-profit organisation in 2017.
Our mission focuses on localizing and feminizing the peace process through promoting inclusive peace and enhancing feminist knowledge leadership.
We work in three programme areas. The first is inclusion Programme, where we mainly support women's inclusion one the peace process at the three diplomatic tracks. We advocate for having women at the negotiation table. We also send our own women independent delegations to peace talks. We also hold peace consultations with women groups to discuss peace agenda topics and feed their opinion to the UN led process and to the states sponsors of the peace process in Yemen. Apart from that, we act as technical secretariat for the Women Solidarity Network and we support its members with their local and community peacebuilding.
The second programme is focused on protection. We secure grants to protect women human rights defenders including to help them relocate or obtain legal aid etc. We also work to monitor women's rights violations and abuse and issue regular reports about the status of women's rights.
The third programme focuses on feminist knowledge leadership. As such we support women to share their knowledge and expertise and make them more visible. We also launched the Peace Track Initiative Feminist Leadership Fellowship which aims at increasing visibility of women leaders through supporting them to write OpEds ans document their political biographies.
We have been able to achieve many milestones. We mobilized women leaders to work on a national agenda on women, peace, and security. We briefed the UNSC twice and we were able to lay recommendations that could form a peace road map in Yemen. At least ten articles of the recent Riyadh peace agreement resonated with our recommendations. We with the help of all women leaders are able strategize and contribute to the peace process in Yemen.